There's a video and cartoon that go through Alan Watts's little speech about "What if money was no object". The summary is that he challenges students to forget about money and focus on their passion. You can watch the whole thing on "The Mind Unleashed" ->
http://themindunleashed.org/2014/06/money-object-everybody-including.html
There is a part of this that I agree with and a ton of it that I vehemently disagree with.
The part that I agree with is that if you are simply chasing money, you'll never be happy and fulfilled. The flip side of that is that if my son exclusively followed his passion, he'd be turn 30 still living my basement playing video games. And if expanded and everyone just followed their passions, who would build sewers, collect garbage and so on.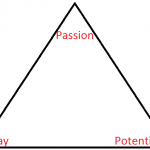 The best manager that I've ever had, Nathan Hancock, once drew a triangle on the board with the corners labeled Passion, Pay and Potential.
What you want to do is be dead centre of that triangle.
For example, I've got a tremendous amount of passion around playing soccer. And the English Premier League pays really REALLY well. But I have little to no potential.
I also have a lot of passion around being a vintage motorcycle mechanic. And I'm pretty good at it. But it doesn't pay well enough to support my family.
I have zero passion around politics as a whole. At the higher levels it pays well and I'd be really good at but I'd hate my life.
Programming, for me, is something that I'm passionate about, if I'm on the right projects and working with the right folks, that pays well and I'm good at. What pays just as well that I'm more passionate about is software architecture and teaching people. Architect evangelist make a great job for me because it's pretty close to the centre of that triangle.
There are lots of people who at really happy handing out on the right hand side of the triangle. This includes artists, people who run charities, the good teachers, clergy and so on. We need those people in our lives. They make us better as a society and enrich our lives in amazing ways. But that's not everyone and it shouldn't be anyone with responsibilities such as kids.
You don't have to look far to see people on the left hand side of the triangle. Watch any of the reality TV shows such as "The Voice" or "America's Got Talent" to see people who have a lot of passion and are trying to get into something that pays well but have zero potential.
There are people who choose to hang out at the bottom part of the triangle. These people have made money their passion and mistakenly think that it'll make them happy. There are professions that are more full of these people than others. A tremendous number of lawyers for example, have done this. There are definitely lawyers who are passionate about helping people in need and serving the law is how they do that.
If I had followed my passion exclusively, I would be in a theatre somewhere and would have never tried programming to be honest. Following the money helped me find something that was in the centre of the triangle. But I didn't just go become something that I thought would pay well. I looked for something that I love doing and continued to refine that over and over again until I found what I'm doing now. I'm going to continue to refine that over time as I continue to endeavor to be in the centre of the triangle.
In short, life is not black and white. It's not one and only one thing that you're passionate about and you should pursue that without regard. If you honest with yourself, you're passionate about a lot of things. Find one of those things that pays decently and get good at it. If you do that, you'll be in a good place.