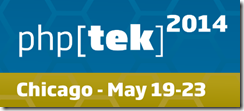 I'm all excited to be speaking at php[tek] again this year. It's been a handful of years since I've been there but it's a great show. It's one of the larger (at least US based) community PHP conferences out there. They attract a fantastic group of top end speakers who not only deliver great content but do so in an entertaining way.
If you are a PHP dev, I highly recommend that you head to this conference.
I'm talking there about web site performance. It's predominately a front end (HTML/JS/CSS) talk but there's a definitely overlap to the backend as well. Here's the abstract:
Building a high performance front end is a balancing act. You need to understand all the different moving parts and subsystems in the browser and how they interact with each other. Small changes can significantly impact page and app load time, memory consumption, and processor use which has a huge impact on your user's experience! In this session, we will dive into the subsystems of the browser and learn to optimize performance on sites and in web apps. We will also deep dive into the new performance analyzing tools available expose good and bad run-time patterns for your sites and web apps, and provide users with a fast and fluid experience.
Check out the schedule and the rest of the talks on the php[tek] schedule