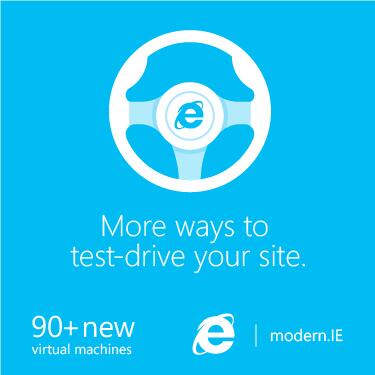 modern.IE has free virtual machine downloads for testing Internet Explorer.
As I mentioned in my last post about modern.IE, my team's core mission is to write interoperable web sites across all of the major browsers and to help that, we've put together a set of tools to help you test cross browser and cross platform. The latest step that we've taken is that we've updated all of the VMs that we support which is a giant list. The updates include getting them up to date with security patches, latest versions of the right browsers, such as IE11 on Windows 8.1 and Windows 7, and more.
We have virtual machines for folks running Windows, OSX and Linux across the following virtualization platforms (dependent on base platform):
Hyper-V (Windows)
Virtual PC (Windows)
Virtual Box (Windows, OSX and Linux
VMWare (Windows, OSX)
Parallels (OSX)
The virtual machines include a lot of different Windows OS and browser configurations.
Windows XP with IE6
Windows XP with IE8
Windows Vista with IE7
Windows 7 with IE8
Windows 7 with IE9
Windows 7 with IE10
Windows 7 with IE11
Windows 8 with IE10
Windows 8.1 and IE11
To set expectations correctly, these are 90 day VMs. In other words, every 90 days they will expire and you can come back and download a new one that's all up to date with the latest security patches but these are not just free Windows machines forever.
If you are testing web sites across multiple versions of Internet Explorer, I highly recommend that you go to the virtual machines page on modern.IE and download the latest VMs.